Donut.js is a monthly meet-up in Portland, OR with a handful of wonderful talks on tech, creativity, community, and the places they come together.
The next Donut.js is on Tuesday, June 26th at 6pm at Alchemy Code Lab at 30 NW 10th Ave (right across from Powell's—see a map).
Tickets are $10 and include donuts and refreshments!
Every month, our proceeds go to a local non-profit. This month we are raising money for Sisters of the Road, 'a nonprofit Cafe in Portland's Old Town neighborhood working to create systemic change that will end poverty and homelessness forever by providing nourishing meals in a safe, dignified space.'
Details on the venue, accessibility, food, and goodies.
Buy Tickets!
Upcoming Donut.js Events
Donut.js occurs on the last Tuesday of most months!
Donut.js June 2018 • 6–9pm, Tuesday, June 26th Buy Tickets
Donut.js July 2018 • 6–9pm, Tuesday, July 31st Buy Tickets
Donut.js may happen on a different day if the last Tuesday conflicts with a holiday.
There is no Donut.js in December.
Speak
Want to speak at Donut.js? We're accepting proposals here! Your talk can be about anything in the wide world of tech and the people, culture, and creativity therein. You don't need to be an expert to speak, and you don't need to have given a talk before!
Submit a Talk
Sponsors
Donut.js is a not-for-profit event. We use sponsorship money to cover our event materials costs and donate the rest to a local charity. Want to sponsor Donut.js? You can learn more about sponsoring here! Sponsor Us
Code of Conduct
All participants are expected to follow the Donut.js Code of Conduct. We take this seriously and ask that you do the same.
Organizing
Learn more about helping out at Donut.js. If you'd like to get involved, email us or message us at @donutjs us on Twitter!
Mailing List
Subscribe to be notified about our events. (We'll only send one or two emails a month.)
Follow Us!
Donut.js & Stumptown Syndicate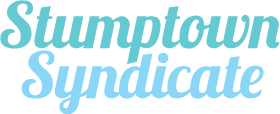 Donut.js is proud to be an associated project of Stumptown Syndicate, a nonprofit that aims to cultivate a resilient and sustainable ecosystem of diverse and inclusive technology communities in Portland, OR and the wider Pacific Northwest. Stumptown Syndicate is also our fiscal sponsor, handling our financial matters and other operational details.